Executive Chef George is enjoying new potatoes
plus make your provisions last longer with his top tips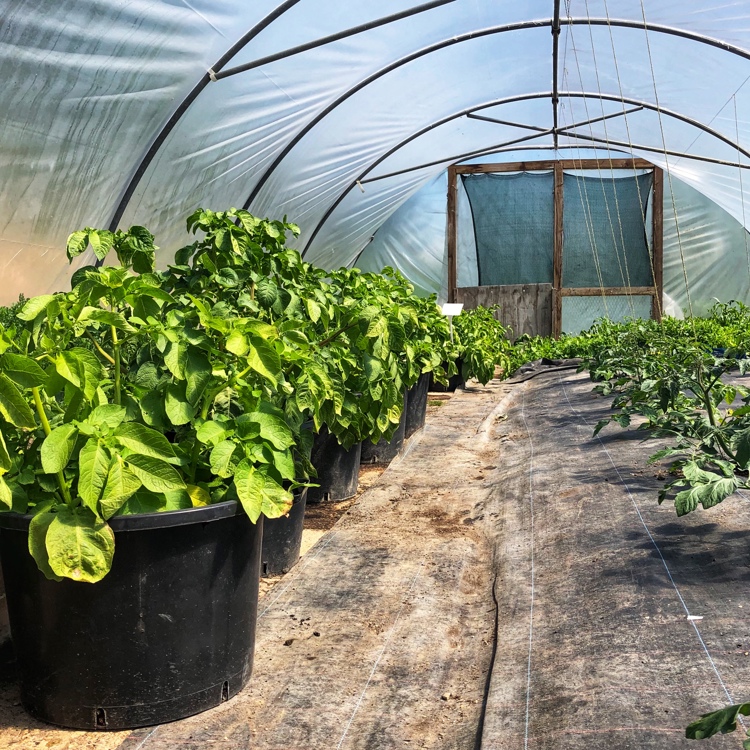 Another joy of living in such a seasonal climate is the arrival of new potatoes, and more specifically ones that have just been taken from the ground with their delicate, mineral rich taste.
You can always tell a newly dug potato, as you only have to rub your thumb against the skin and it will come off. Even after half a day this becomes a struggle so as soon as the gardening team deliver the potatoes to us, we rub off all the skins, then store in the fridge immersed in cold water until it is time for them to be cooked.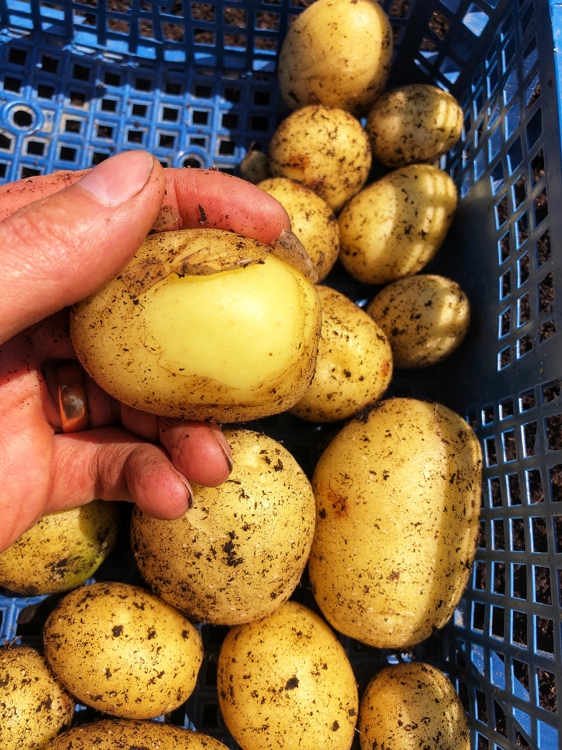 Our earliest potatoes are grown in buckets in the poly tunnels and soon after come from the kitchen garden and we aim for a golf ball size, although there is a decent variation on each plant and between each variety. International kidney we feel has the edge on taste (the variety apparently used on Jersey, which is why we give them the name Gravetye Royals!) but Charlotte, Arran Pilot, Wilja and Swift are also extremely good. The advantage of growing a number of varieties is that they are never all ready at the same time.
Cover in lightly salted water, then boil until a thin skewer meets no resistance going through the potato. Take off the heat and add a sprig of mint so that the potatoes are infused for 10 minutes in a mint tea. You can either take out the potatoes whole, toss in some melted butter and add some chopped herbs of your choice, or another delicious way is to crush them gently with a fork, then fold through some soft butter and some of the potato/mint stock. You don't want to stir these crushed potatoes too much as you will activate the starch and the consistency will evolve into wall paper paste, so gently fold them whilst heating to a risotto style consistency.
Simplicity again allows the potatoes to shine, but there are plenty of other delicious ways to cook them after boiling: roasted with a spicy tomato sauce (patatas bravas) or roasted with blanched garlic cloves and rosemary, mixed with a mayonnaise/aioli/rouille as an ambient temperature dish, using some of the stock as a risotto base or to wilt thinly sliced leek/lettuce/peas and serve on the warmed potatoes, added whole to a stew/curry, or crushed/sliced to form the upper of a fish pie.
With less frequent food deliveries or trips to the shops, below are a few things to think about while you cook at home that may help.
Take care.
George
Top 10 tips for minimising wastage, using up left-overs and making food last longer.
1. Sanitise and organise your fridge properly. A dirty fridge with produce that is not covered or not stored correctly will reduce the shelf life of your fresh ingredients. Make sure delicate items are not being squashed. Store any raw or uncooked meat in a separate area (a plastic tub or a veg box section of the fridge works well). Check all the items in your fridge regularly to prioritise the best order in which to consume them. If you have space in your fridge, apples, oranges, root vegetables and potatoes will last much longer.
2. Look after your freezer! Defrost it if it is icing up (reduce the contents over time, freeze ice packs, put contents and ice packs in cool bags, use towels and tubs to catch dripping water, fill hot water bottles to place on the shelves, add a tub of hot water to the bottom, the freezer will defrost long before your food). Label each shelf e.g. meat, veg & fish, dairy & bread, prepared meals. If you cook or portion something to freeze, write what it is on the tub or bag. Don't stockpile unnecessarily, this will just make it more difficult to organise.
3. Break items down and store yourself. This will allow you to store less raw meat/fish in the fridge, make fewer visits to the shops and give you a more bespoke and flexible approach to feeding yourself. Example 1: buy a whole chicken, remove the breasts and freeze, turn the chicken upside down and roast as normal, at a later date defrost the breasts and cook. Example 2: buy a whole side or half side of salmon, remove or scale the skin, portion to a size that suits you, freeze. Example 3: buying a large pack of bacon and freezing the rashers in portions that suit your needs.
4. Make stocks and broths. Especially the carcass from a roasted chicken, which makes an excellent broth cooked slowly with a few spices and veg trimmings. This can be heated with sliced vegetables/mushrooms/soy sauce/noodles for a quick meal, or used as the base for a risotto or gravy. Save any water used to blanch vegetables for the same purpose.
5. Flavoured ice cubes. If you enjoy fresh infused teas or something a little different in a G&T, add your favourite combination of the following to ice cube trays with a little water and freeze. Raspberries, blackberries, lemon slices, lime, pink grapefruit, fresh ginger, mint leaves, lemongrass pieces etc.
6. Make the most of your dry stores. There is so much variety here, which can also be healthy and quick. Buy a few things that you wouldn't normally get to see what they are like. Adding a can of butter beans to a beef stew last minute instead of serving with potatoes, or massively overcooking brown rice in a stock with some leftover veg/meats added at the end to make a congee. Just like everywhere else in your kitchen, organise your dry stores properly. You need a very good reason you have something more than 6 months old. Weighing out how much rice or pasta to cook for a meal will give you control over left-overs.
7. Batch cooking and storing is great to do just before or just after a new batch of fresh produce is arriving; get all your old vegetables and make soups or curries, then freeze in tubs. Likewise, when all the ingredients arrive batch cooking some of them into bolognaise bases or ratatouille style dishes will give you more fridge space.
8. Judge best before dates of low risk items with your own common sense to determine the order in which you should consume products. A lettuce could spoil 2 days before its best before, just as likely as be fine 4 days after. For anything high risk use or freeze as soon as possible.
9. Plan to create left-overs with a purpose, looking at them like pre-prepared ingredients that make cooking a little easier when you use them. If you have amassed a few different left-overs from previous meals, why not serve up a mixture of smaller dishes, tapas style.
10. Don't follow recipes. Flexibility is key in making sure you can cook and use up the food that you have. Recipes add constraints. Use them as guides and for inspiration. Some recipes, especially pastry/bread items, may require exact measurements, but for most savoury meals the ingredients can be of varying quantities or swapped completely to both your taste and your available stock. Cooking with an air of confidence rather than reservation will reap far greater results.
Search blog
Subscribe to our newsletter