Head Chef George at Obsession 18
October 2017
Gravetye wins Sussex Restaurant of the Year and retains its Michelin Star, plus Head Chef George is announced in the Obsession 18 line up…
It's been a great few weeks for Gravetye, scooping Restaurant of the Year at the Celebration of Sussex Life Food and Drink awards and retaining our Michelin Star.
We are also delighted to announce our Head Chef George Blogg will be taking part in Obsession 18 at fellow Relais & Chateaux property Northcote Manor in January.
Chef Patron at Northcote Nigel Haworth, is celebrating 18 years of his gastronomic event Obsession by inviting 21 world class chefs with 16 Michelin stars to cook at the luxury boutique hotel. The culinary occasion will take place over 18 nights from 18th January to 4th February 2018 and sees chefs travelling from diverse countries including India, Russia, Japan, and Mexico, as well as the UK, to cook their unique Obsession Menus.
George's dinner is on Friday 26th January.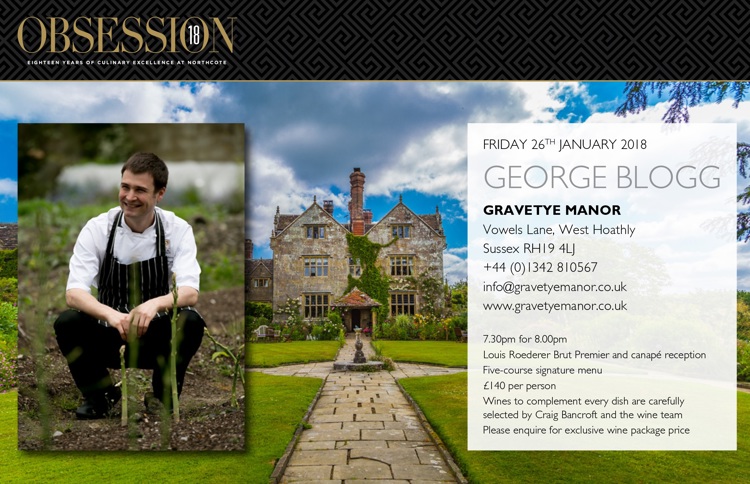 Obsession first took place in 2001 and was created by Haworth as a celebration of great food, wine and a meeting of friends, old and new. From that first event, it's size has grown but the ethos is still very much the same with Haworth always looking to offer guests a completely memorable culinary experience, created by some of the world's most innovative chefs.
Tickets for Obsession 18 cost from £140 per person including Louis Roederer champagne and canapé reception, five course menu, and coffee and petit fours. Tickets go on sale on Tuesday 17th October. For more information visit www.northcote.com/obsession18. 
Obsession Booking Hotline: 0333 999 7762*
OPENS 8am TUESDAY 17th OCTOBER 2017 *
Bookings cannot be taken before the hotline opens
Search blog
Subscribe to our newsletter