Executive Chef George shares some top tips for home cooks
plus a soup recipe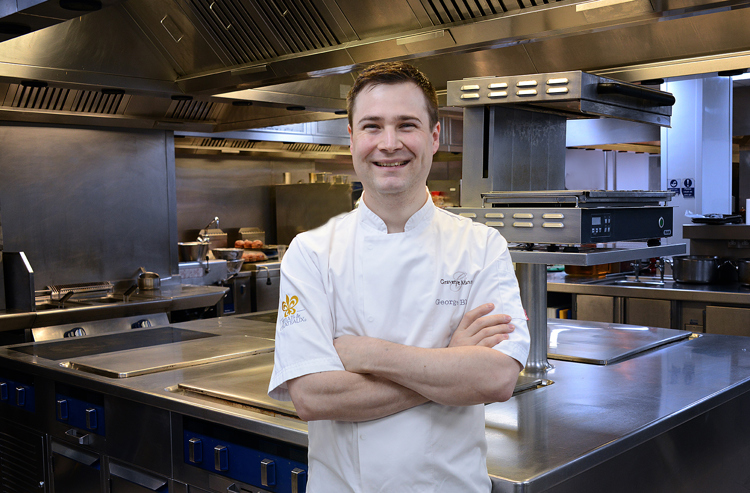 Our asparagus beds are just starting to produce a decent crop and this is always a cause for celebration. The first asparagus I taste every year is eaten raw straight from the ground, and if any of you are lucky enough to grow your own, you will understand the enormous pleasure that this gives.
Like so many quality ingredients, a simple preparation is usually the best, and fresh asparagus is a top example of this. Try and cook it as soon as you buy or pick it. Bend the spear in half until it snaps and on thicker stems peel the very outside skin from below the tip. Trim the base, then blanch in slightly salted boiling water for 2-3 minutes until just soft. Drain well, then serve brushed with melted butter, a twist of black pepper and some flaked salt. This is heaven and could be served as a starter or a side to a main course. If you really wanted to add something extra how about a poached egg, some grated hard cheese, some chopped herbs like chervil/tarragon/chives, a hollandaise sauce, a tomato salsa, some diced smoked salmon, some fried shallots/bacon lardons/mushrooms, or a little dressed salad.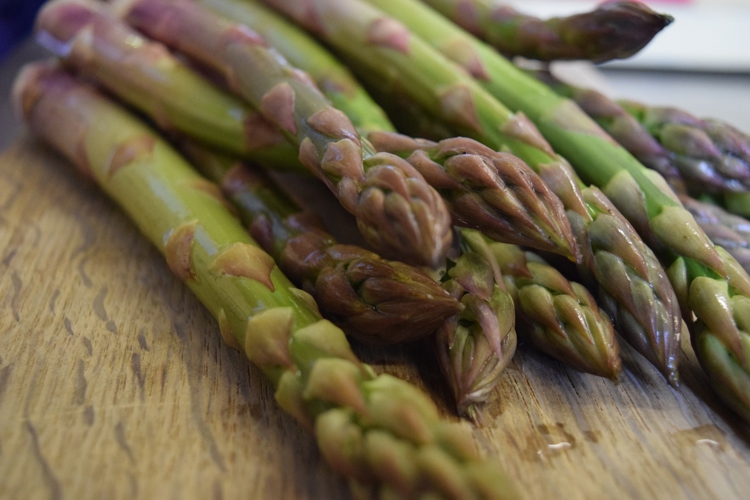 The interesting bit comes with what to do with all the left over peelings and stalk? A soup is always my go to for these, as it allows you to remove any woody textures but still keep the flavour. Sweat a thinly sliced onion with some salt for 10 minutes until soft, adding a few splashes of water every now and again to prevent the onion from catching. Slice all the asparagus stalks and add this and all the trimmings to the onion, continuing to cook for a further 5 minutes. Add some milk so that it just comes to the top of the vegetables. When the milk starts to simmer add a knob of butter and either some frozen peas, a few handfuls of chopped wild garlic or a few handfuls of spinach. When the mix has come back to a simmer blitz straight away, preferably in a food processor, then pass through a sieve using the back of a ladle to push it through. Place the bowl of passed soup above some ice water so that it cools straight away. You can then adjust the seasoning if necessary.
We are all cooking a lot more at home these days, so here is my top 10 tips on becoming a better cook to try and give you something else to think about in the kitchen. Take care everyone!
1. Drain food properly. Even something as simple as a poached egg for your breakfast should be placed onto a folded piece of kitchen towel beforehand. Excess water, especially from blanched vegetables, will release liquid on to the plate diluting sauces, turning anything crispy soggy and leaking around the edge of the plate. A clean folded tea towel or napkin could also be used.
2. Buy some plain white crockery. This is the best type of crockery to use with a variety of different dishes and foods. It is fine to serve food on coloured plates, but some food will suit them better than others. Each dish in a restaurant is matched to the colour and style of a specific plate/bowl, but they have the advantage of a far larger range of crockery to choose from to make it work.
3. Don't be fooled into buying expensive technical equipment that usually only occur in professional kitchens. It is used mostly to improve consistency and save time. Invest in skills, knowledge and sharp knives instead.
4. Always use hot plates for hot food. This makes it more likely that your last few mouthfuls will still retain some heat.
5. Unless you use ground spices in decent amounts, only buy whole spices. They have a much longer shelf life and infuse flavour far better without a sawdust texture left at the end. Fresh herbs are far superior to anything dried, with a few exceptions. Adding fresh herbs at the end of the cooking process allows the flavours to be as fresh as possible, when adding at the beginning you get an old stewed taste.
6. Dressing salad. Any addition of herbs, lettuce or salad as a garnish should be dressed properly and at the last minute. This benefits both appearance and taste. A simple way is to add some olive oil, a little lemon juice and a pinch of salt to a jar, shake well, and pour contents onto the leaves, then mix in and use.
7. Improvise a little. Use up what you have in your fridge, what fish looks the best on display, seasonal ingredients that come and go. It will help you to become a more creative and competent cook, rather than a recipe robot.
8. Don't be afraid to ask about things, especially from people who are good at what they do. Your butcher, fishmonger, local farm shop supplier will be more than happy to discuss their produce with you, give you tips and pass on some of their passion. There is a huge network of fantastic local suppliers around the country and these are a great source of quality and morally superior products.
9. Taste your food and constantly ask yourself questions. Does it need more salt? Does it need more sweetness? Does it need more acidity? Is it smooth enough? Is it hot enough? Is it cooked enough? Is it washed properly? Is it a good colour? Is it too thick? And when you taste anyone else's food, do the same.
10. Always try to eat and taste new foods, and to try to cook them too. It won't always work, but it will improve you as a cook by moving you away from your comfort zone.
George.
Search blog
Subscribe to our newsletter