Gravetye wins design award
New dining room recognised as best non-residential design in Mid-Sussex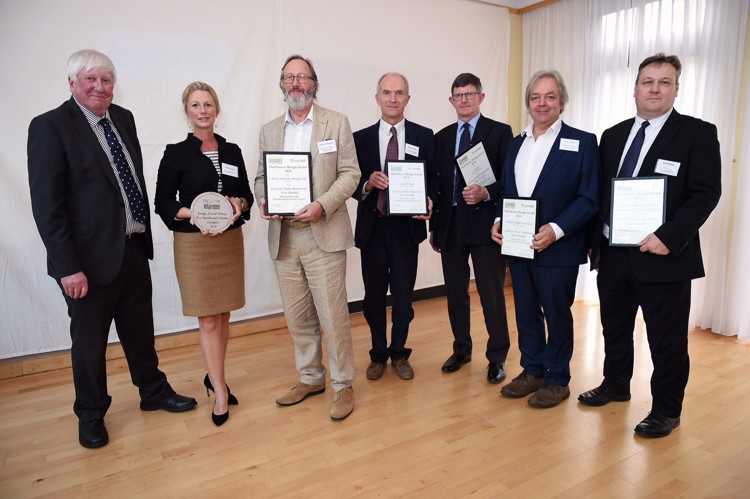 Pictured left to right: MSDC Cabinet Member Councillor Andrew McNaughton, Celine Leslie (Director of Sales & Marketing at Gravetye Manor), Sir Charles Knowles (Lead Architect), Mark Lister (Listers QS), James Tasker (Campbell Reith Structural Engineers), Nick Walker (Ingine M&E + Lighting) and Scott Giles (Pilbeam Construction).
Gravetye Manor, the historic Sussex country house hotel famous for its stunning Grade II listed gardens, has won a design award for a new dining area inspired by the landscape.
The 35 acres of grounds, created by the visionary early 20th century plantsman William Robinson, were the starting point for a challenging project that brought specialist architects, construction teams and even artists together to create what judges described as a "truly inspiring" addition to the Jacobean manor.
The elegant, contemporary restaurant structure with its floating 'umbrella' roof and frameless floor-to-ceiling glazing, was intended to 'bring the outside in', providing guests with a spectacular, uninterrupted view of the gardens, while a carefully crafted interior reflected their natural colours.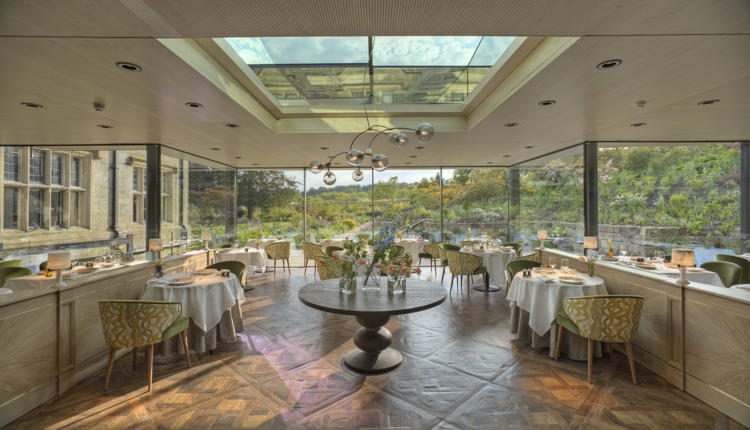 The restaurant won the award for the most impressive non-residential scheme in the Mid Sussex Design Awards, announced in October, and also received a Conservation and Heritage category commendation.
The project was not without its challenges. Lead contractor, Brighton-based Pilbeam Construction, had just four months to complete the works while Gravetye was closed from January to mid-May in 2018. And, in order to conserve the gardens, it was obliged to bring a 350-tonne crane on site to lift all plant, materials and spoil around rather than over the Grade 1 listed building.
But the result is a breath-taking space, bathed in light and featuring exposed original stonework with colourful, botanically inspired panels painted especially for Gravetye by French artist Claire Basler.
Gravetye Manor's owners Jeremy and Eizabeth Hosking worked with lead architects Sir Charles Knowles and the entire project team to create the space for guests to enjoy the restaurant's Michelin-starred experience.
"We're delighted on behalf of everyone involved in the project to have received this award," said Celine Leslie, Gravetye Manor's Director of Sales and Marketing.
"We have doubled the capacity of our dining area and created a unique experience that really captures the special quality of Gravetye and its magnificent setting."
Search blog
Subscribe to our newsletter