Gravetye Manor donates cut flowers to local NHS workers
at Queen Victoria Hospital in East Grinstead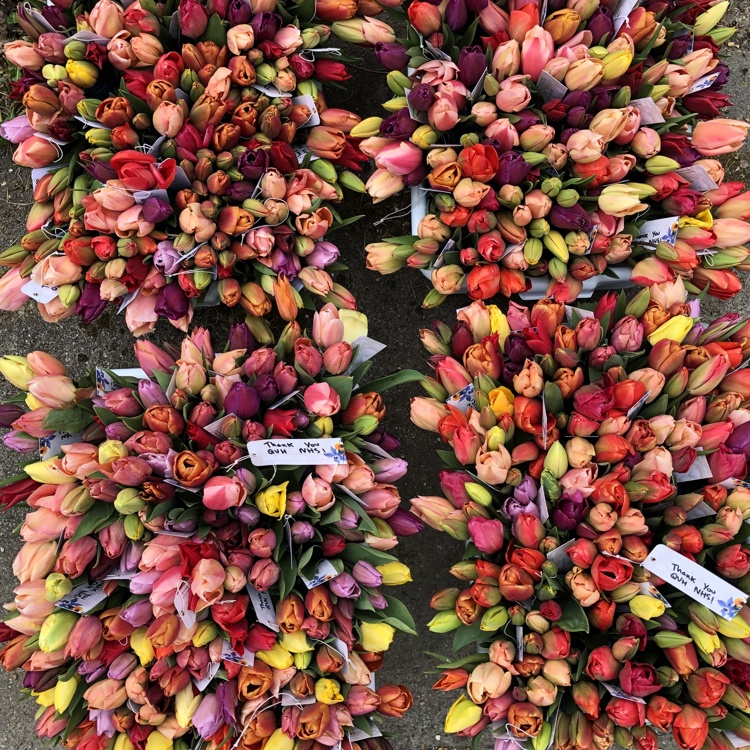 Gravetye Manor, like all other hotels and restaurants in the UK, was forced to close its doors on the 21st March this year due to Covid-19. A skeleton senior team remains, ensuring the garden is maintained and the manor is secure. As well as fruit and vegetables, Gravetye Manor grows most of the cut flowers for its displays and arrangements in the manor.
Tulip season is a magical time in the gardens at Gravetye and tulips are a firm favourite with the Head Florist Sue Flight. With so many blooms already being grown but no arrangements for them to go into the team reached out to the local Queen Victoria Hospital in East Grinstead to see if somehow, they could be given to NHS workers there.
Close to 2000 tulips have been picked and bunched in the last two weeks at Gravetye and collected by QVH volunteers. NHS staff have then been able to collect a bunch as their shift ends to take home. A small gesture from Gravetye for the herculean efforts made by the incredible NHS at this time.
Flowers have also been delivered to Silver Court Care home in East Grinstead.
Gravetye hopes to continue its efforts donating cut flowers, fruit and vegetables where safely possible during its closure. Pictured below chief pickers our Exec Chef George Blogg and Senior Sous Chef Adam Smith.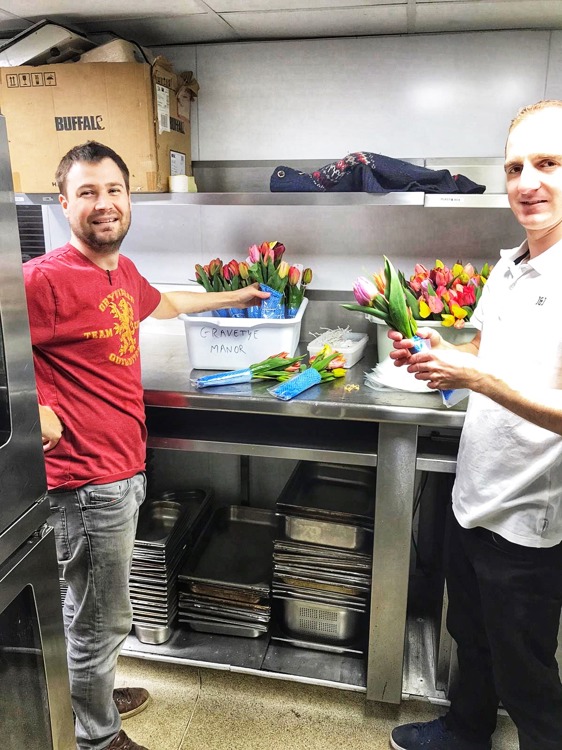 The Gardens
Set over 35 acres and originally created by visionary gardener William Robinson, Gravetye's gardens are overseen by Head Gardener, Tom Coward. In line with Robinson's pioneering principal, Gravetye epitomises the wild garden, a landscape that celebrates nature, rather than controls it.
The Gardens include a 1.5 acre Victorian walled Kitchen Garden, constructed from local Sussex sandstone. Everything grown there can ordinarily be found on the restaurant's daily changing menus, which celebrate the fruits of the land and sea with fresh, delicate and seasonal flavours. Complete with a dedicated glass peach house, many of the methods used in the garden today mirror those used 100 years ago.
Search blog
Subscribe to our newsletter