Gravetye sponsors garden at Chelsea Flower Show 2019
The Resilience Garden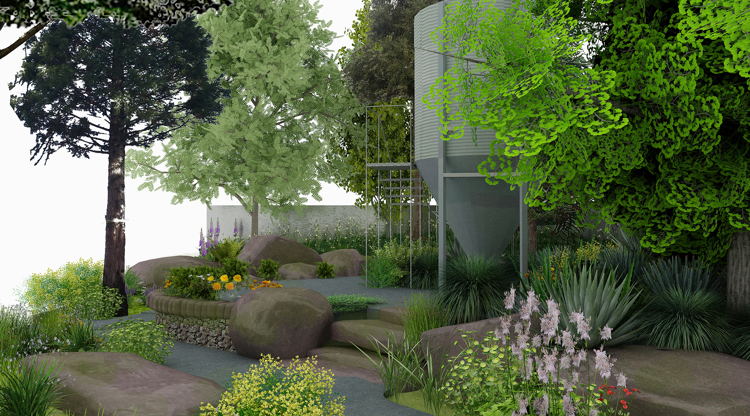 Gravetye is proudly sponsoring The Forestry Commission's show garden The Resilience Garden at Chelsea Flower Show this year.
Award-winning designer Sarah Eberle will unveil an unusual collection of tree species including giant redwood, monkey puzzle, prickly pear cactus, red yucca, and ginkgo. The garden is being created to mark the centenary of the Forestry Commission, and will feature exotic alongside native species – specially selected to thrive in habitats that mimic existing and probable effects of climate change.
The project is inspired by visionary gardener William Robinson and initiated by the William Robinson Gravetye Charity. 150 years ago Robinson began championing a wilder and more natural approach to landscape design on the Gravetye Estate. This included experimenting with a huge variety of trees and plants both for beauty and, in the case of the trees, for producing timber.
The William Robinson Story
Robinson lived and plied his trade at Gravetye Manor for over 50 years. Following in his footsteps is Tom Coward, our head gardener. Robinson was a revolutionary for his time, introducing new ideas such as the wild garden and experimenting with different species of trees. While he had a dramatic impact on horticulturists and landowners throughout the 20th century, his approach is still relevant today. In the face of climate change and the threats posed by pests and diseases, we need to plant more diverse forests and gardens to ensure they are resilient for the future. Robinson was bold and experimental, and we could do worse than looking to him for a little inspiration. Some of the plants for the show garden have been grown at Gravetye by Tom and his team, including: Ranunculus acris Stevenii, Echium Russicum and a selection of Californian poppies such as Copper Pot, Copper Swirl and Red Chief.
Search blog
Subscribe to our newsletter