The Resilience Garden
Chelsea Flower Show 2019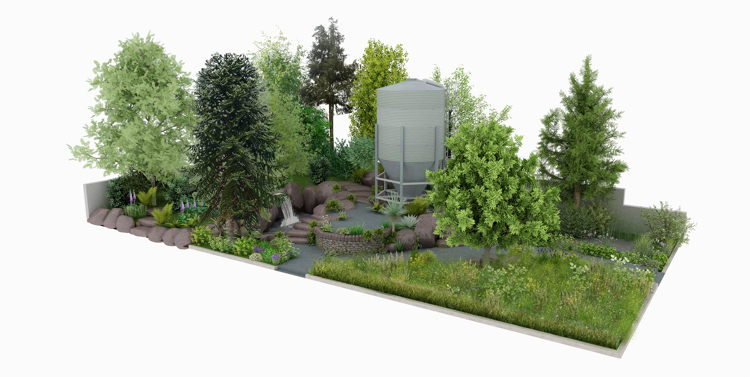 Gravetye Manor is delighted and excited to announce its co-sponsorship of The Forestry Commission's show garden at the RHS Chelsea Flower Show in 2019.
The Resilience Garden will feature an exciting range of plant and tree species and suggest potential solutions for protecting the nation's forests from the threats of climate change, pests and diseases.
Inspired by the revolutionary Victorian gardener William Robinson - who introduced the notion of the 'wild garden' and created the gardens at Gravetye, the showpiece will exhibit many trees and plants unfamiliar to the English landscape. 
The Forestry Commission has teamed up with multi award-winning designer Sarah Eberle to create a show-stopping garden for The RHS Chelsea Flower Show in 2019 as part of a cultural programme that marks the Forestry Commission's centenary, celebrating 100 years of forestry while looking forward to the future.
The Resilience Garden is sponsored by the William Robinson Trust and Gravetye Manor Hotel & Restaurant, the Kingscote Estate and the Forestry Commission. The Department for Food, Environment and Rural Affairs (DEFRA) and the Animal and Plant Health Agency (APHA) are also partners for this project.
Designer Sarah Eberle, said, "The Forestry Commission centenary is a once in a lifetime opportunity to look to the future – to the next 100 years – and address the big challenges around climate change, tree health and resilience.
"The garden investigates how planting a greater diversity of species is an essential exercise in ensuring our gardens and landscapes are healthy for generations to come. I'd like to see this garden impress, inspire debate, and spur people into action – and Chelsea is the place to present big ideas."
The RHS Chelsea Flower Show is taking place from 21st to 25th May 2019. The annual event, organised by the Royal Horticultural Society, is considered one of the most important moments on the gardening calendar.
Find out more on the link below, including an interview with our Head Gardener Tom Coward and designer Sarah Eberle.
www.forestryengland.uk/Chelsea
THE RESILIENCE GARDEN IN NUMBERS
• Designer Sarah Eberle has won 16 Gold Medals at Chelsea Flower Show.
• Sarah Eberle has worked as a garden designer since 1980.
• The Forestry Commission was founded in 1919, following the end of WWI.
• Over 100 years, the Commission has more than doubled woodland cover in the UK.
• William Robinson left over 1,000 acres of woodlands to the Forestry Commission, with Gravetye Manor and its important garden at its heart.
• The Forestry Commission manages over 1,500 forests across England.
• There are almost 450 million visits to woodland in England each year.
• 84% of the UK public agrees with the statement "a lot more trees should be planted" in response to climate change.
• 76% of the UK public supports the statement that "Different types of trees should be planted that will be more suited to future climates".
Search blog
Subscribe to our newsletter