Planting Bulbs
October 2017
One of the most important jobs to get done before Autumn sets in is placing our bulb order, Head Gardener Tom shares is ideas for next Spring...
One of the most important jobs to get done before Autumn sets in is placing our bulb order. We always grow most of our own plants for the garden and bulbs are one of the few things we buy in. This is quite an expenditure and a lot of work to get them in the ground before Winter comes, but we see it as an investment in the Spring and the rewards we get each year from our bulb displays are well worth it.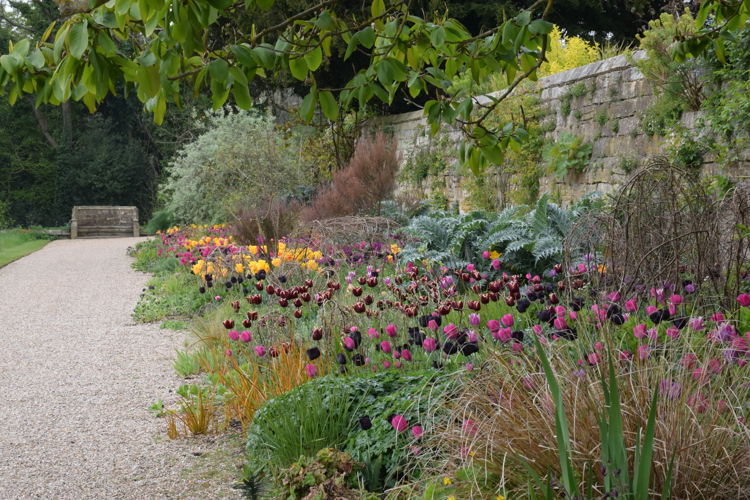 Planting bulbs in turf is a classic piece of the wild garden which William Robinson started at Gravetye back in 1885. Every spring the meadows are carpeted with colour, the result of over 130 years of plantings, as each generation of gardener tries their own experiments. Over recent years we have been playing around with the genus Cammasia, with very satisfying results. We have been particularly pleased with our plantings of Camassia Leichtlinii var. caerulea in the orchard, which combine with the apple blossom so well. To continue developing this planting we have ordered 2000 new bulbs to get in. Although this seems like a lot it is quickly used up in 2 acres of orchard and a well drilled team of gardeners should be able to plant this in a few hours.
In the flower garden we have always enjoyed a colourful tulip display, which is the perfect way to recover from a grey winter. This year the hotel will be closed until May whilst we build our new restaurant, so we have concentrated on trying late varieties. 'Menton' is probably the best late I know so the planting is largely based around this beautiful orangey pink tulip. Black from 'Queen of Night' and mahogany from tulip 'Jan Reus' are quite interesting combinations which I am excited to try and in another corner perhaps the pink of 'Menton' with tulip 'Blue Aimable' should be interesting. First however we must clear the beds and prepare the ground for planting. So that will be the next bit of fun to start in the Autumn festivities in the garden.
Search blog
Subscribe to our newsletter